Application Guidelines · Documents to be submitted
Application period
For October Intake 2023 (from March 2023 ~ May )
For April Intake 2024 (from September 2023   ~ November)
Eligibility for application
1. Those who completed secondary school education under the normal course for 12 years in the home country or overseas.
2. Those who has a person that bears certainly the cost of living expenses required for study abroad in Japan and who can prove the asset formation
process of the person through such as passbooks.
3. Those who has taken Japanese classes more than 150 hours and has the Japanese ability comparable to N5 or higher of Japanese Language Proficiency Test.
Application documents
A. Application for admission
B. Resume
C. Reason for studying abroad
D. Photo
※ Please attach 6 certification pictures (ID photo)
ID photo must be sharp and taken within 3 months with no background and the upper body without hat.
Please submit it in a size of length 4 cm × width 3 cm.
Please refer to the right figure for details.
http://www.moj.go.jp/isa/applications/guide/photo_info.html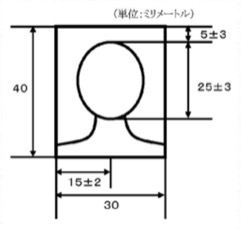 Documents to be submitted
Submit all original certificates other than those with instructions, not copies.
Attach a Japanese translation to each certificate written by the language other than Japanese.
Write the name of translator , the address and telephone number in the bottom space of the Japanese translation besides seal or sign to the right of the name.
Each certificate
A. Education certificate
1. Education Level Diploma
2. Transcripts (Original)
3. In case of the applicant is currently studying in school, please ask the school to issue the following documents.
○ Certificate of enrollment
○ Academic transcript
B. Proof on learning Japanese
1.Please submit the original certificate and transcript if you pass any level of the Japanese Language Proficiency Test (JLPT).
Please submit the original record of transcript if you fail that.
2. Please submit the results if you have taken Japanese classes in high school or university.
3. Please submit a certificate of completion if you have attended the Japanese language school.
C. Certificate of employment (in case of the person is in office now)
Proof on financial support to expenses
A. Certificate of the bank deposit balance
B. Please prepare the following certificates in case of the relatives (father, mother, husband and wife) pay expenses.
1. Letter of financial support (prescribed form)
2. Certificate of bank balance of financial supporter, Income certificate, Tax certificate and certificate of Employment.
3. Those who certify relatives (copies of family register etc.)
Passport copy
Copy all of the passport exclusive of the blank page.
Other
The documents recognized by our school as necessary
*Japanese language school conducts the application procedure for granting the certificate of eligibility to obtain an international student visa according to the Immigration Bureau of the Ministry of Justice.
Please apply with the above documents with application fee.
◎ Enrollment period · Capacity etc.
 

1 year and 6 months  advanced course
2 years advanced course
Capacity

40 ppl

60 ppl

Qualification requirements

A person who graduated from more than high school in the country other than Japan.




(Those who has academic ability equal to or equivalent to more than 12 years of studying)




Those who has the ability of  N5 or higher of Japanese Language Proficiency Test.

Selection process

Document screening


Application season

March to May


September to November

Enrollment period

October 

April

Study period

1 year and 6 months

2 years

Visa status

Student
* The period of graduation is in March.
* Our school will perform classification.
* We have the supplementary classes for other maths, English and comprehensive subjects for the university admission.
◎ Other
1. Part-time job
If you obtain permission from the local immigration control office, you can do a part-time job within28 hours a week to the
extent that it does not interfere with studies.
2. National Health Insurance
All international students who enrolled in our school will join.
Self-burden of medical expenses can be reduced to 30% when you enroll in this insurance.
◎ Main destination of school
We offer various support for students who wish to go on to university and vocational school.
Experienced teachers will teach you kindly and carefully until you decide to go to the college.
Interviewing is very important if you want to go on to Japanese college.
We teach how to answer in interviewing situation and practice about Japanese manners practical.
We teach how to write the E-mail to the professor that you wish to go, essay, research plan and
personal statement thoroughly also other than in the class time.
We provide guidance and advice the way of choosing the school, simulated interview and instruction of the writing thesis in
accordance with the each student's request for going on to school.
We have the pamphlet and application guidelines of graduate schools and vocational schools that located all over Japan.
So we can introduce the necessary information for the examination according to your school of choice.